11 Apr 2016
Message to the CEO: Change Your Job Description
Have you ever looked at the management team sitting around the boardroom table and wondered, who are the most important people here? If you've had the privilege of being a father, you'll be familiar with the question: 'Am I your favorite?' We love all of our children to the same degree but in different ways because they're unique. Later in life, most little girls grow up to be women, marry and then ask: 'Does my bum look big in this?' I've come to learn that there is no good answer to that question even if you respond with: 'For me, you are the most beautiful woman in the whole world.' Yeah – right; it's the dog-house for you.
As a leader, it's always a mistake to play favorites or comment on the size of someone's rear-end; instead we must value difference in building balanced teams. All of us in leadership roles stand or fall on our values, competence, and the team we which we surrounded ourselves. IQ and EQ are both essential – intelligence and wisdom, energy and discipline, inner strength and humility, financial management and people skills.
Success is a team sport and it's amazing what can be accomplished if you always pass the credit to others but accept responsibility for failure yourself. The desire to be the smartest person in the room stifles collaboration and crushes the creativity of others. Hiring people just like you creates terrible blind-spots in perspective and weaknesses in execution – the best leaders hire complementary traits, experience and personalities.
But there is another side to great leadership – the willingness to face the awful truth and accept that the biggest problem and opportunity for your business is in the mirror. Your personal values and behaviors are the culture of the organization. Even if the problem is with others, they are your responsibility because you either haven't fired them or failed to get beside them and support them in overcoming the issues.
Forgive me for the generic assertion but I'm right most of the time – sales management is the weak link in your revenue chain. You don't really understand the sales machine and so much about it frustrates you. The results should be predictable, the reports should be trustworthy, the forecast should be accurate, the pipeline real – but selling is a mysterious black box to you and the people feeding you with information seem to be flaky. You are part of the problem because you don't understand complex selling, yet you wrongly regard it as being like every other direct reporting line. You can't lead that way – The Board will eat you alive, the market will punish you. Worse still, you or those within your team could succumb to the temptation to make bad decisions driven by desperation to hit the numbers.
Here's the reality of business. One problem, above all others, is terminal – lack of revenue. Every other problem can be managed, massaged, resolved; but shrinking revenues are fatal. For some enterprises cost-cutting is strategic but for most it is a mere tactic and all it usually does is stall the inevitable. It's rarely a winning strategy to engage in a 'race to the bottom'.
Revenue, on the other hand, is like air-speed – it creates lift. You can have the most beautifully engineered aircraft in the world but without airspeed it will never fly. Sales is the thrust that creates forward momentum, and with enough speed you can lift-off, climb and soar into the wild blue yonder. Your sales and marketing team is the engine that creates thrust, their commitment and passion is the fuel – prospects and customers are the wind beneath your wings. In proper aeronautical terms, they are the low pressure area above the wing that sucks you upward.
But as you survey your generals [I swear this is true: Word somehow changed 'generals' to 'genitals'… funniest autocorrect I've experienced and very happy I caught it on the proof-read!] sitting around the boardroom table, do you see commanders of fiefdoms acting in their own best interests? Or do you see a unified team, willing to sacrifice themselves for each other and act in best interests of the greater good? Are sales, marketing, customer support and service disjointed? These are the most important roles around the management table and they need to be united in their vision and commitment. You are their common leader, the catalyst to bring them together. But you need to create the right focus and set the right agenda.
Sales and marketing must especially be an integrated function; simmering hostility or finger-pointing cannot be allowed to prevail. They must come together to define and map customer engagement lifecycle. Everything from social media thought leadership, brand building, website education, differentiating video content, reasons to contact and then the entire sales cycle, on-boarding and retention through to case studies and upselling. Beyond your product, service or solution; what's the customer experience you can create that sets you apart? How can you be the most insightful, helpful and the easiest supplier to deal with in the eyes of your customers?
You must take personal control – it's too important to delegate. You need to become Chief Revenue Officer with sales, marketing, support and service all reporting directly to you. Set a vision for the customer experience you want to create that will outshine your competitors. Facilitate workshops to brainstorm the future-state of your company. Gag anyone who wants to talk about technology. Force them all to first define and then workflow the end-to-end customer experience your clients deserve. What is your customer relationship management strategy and what are the metrics and KPIs that guide you on the path?
Don't approve any investment request that comes to you for technology; CRM, social, and marketing automation included, unless they can clearly articulate where it fits within the end-to-end strategy. You need to drive a culture of customer success though best possible customer experience with every touch-point providing consistent high levels of service. Maybe you will appoint a Chief Revenue Officer (CRO) in the future but for now you will grasp the role yourself. It's a terrifying role because you cannot manage revenue or results; you can only manage activities and inputs. That's the very reason why these next two roles must also be assumed by you personally to instil the vision, unity and discipline in your team and throughout the entire organization.
CEO should really stand for: Chief Example Officer.
CEO and Chief Customer Experience Officer. Align the business for buyer engagement. Create retention strategies based on irresistible value and service. Love your people and customers. Delight them, inspire them, and show them a better way. Create emotional connections to the way you do business.
CEO and Chief Culture Officer. Love your staff and serve them with all you have. Be Chief Encouragement Office. Take your vision, mission and values statements off the wall and write them on everyone's mind and heart. Bring it all to life in the way you live and lead. Be authentic – ditch the persona and instead be human in how you operate. It will cascade down through the organization and the market will notice. You'll be 'the good guys' in your industry and partners and customers will want to do business with you over anyone else. Are you brave enough? This case study can show you how it can work.
CEO/CRO/CCEO/CCO… it has a ring to it, doesn't it. Seriously, no need to put this inane mind-boggling acronym string on your business card or LinkedIn profile but ensure no-one is in doubt about your obsession. Customer intimacy combined with innovation to create the best market-leading customer experience is the most powerful form of differentiation. This, combined with a motivated and competent sales team is what creates profitable revenue, the life-blood of any enterprise.
How many business out there already have a CRO or similar role that brings sales, marketing, service and customer support all together under a single leader? What are the barriers you see to breaking down fiefdoms for the benefit of customers and the prosperity of the business?
This article originally appeared on LinkedIn Pulse.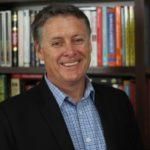 Tony J Hughes is a best selling author and speaker in the field of sales leadership. He has three decades of business leadership experience and has also taught for the University of Sydney and the University of Technology, Sydney, Australia. Tony's LinkedIn blog is widely read and he can be found at RSVPselling.com and TonyHughes.com.au.