17 May 2022
LEGAL TECH FEST 2022 TAKE AWAYS: The humans have spoken!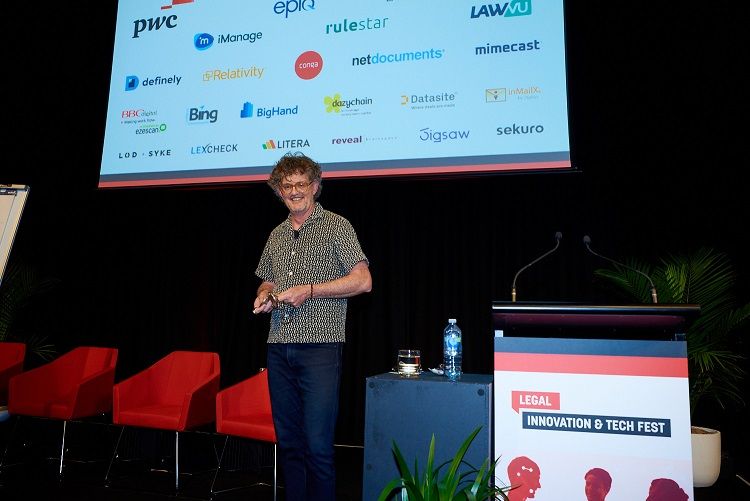 "The overwhelming and VERY surprising takeout of this conference on legal innovation and technology, at least for me, is a focus on being HUMAN!" - Kim Wiegand, Partner, beaton
Thank you to 225 delegates, 56 speakers over 4 streams, and 28 sponsors and exhibitors for making Legal Innovation & Tech Fest 2022 such a terrific success after an almost three year COVID-induced hiatus.
Looking back on the feedback we received, some of the most talked about topics of the days included AI, the Customer Experience, and all things digitisation and tech adoption. There was also an overwhelmingly positive sentiment regarding reconnecting with the community in person again.
Top Takeaways
Kim Wiegand - Partner at beaton | Professional Services CX Specialist | Gender Equality Advocate
"... The overwhelming and VERY surprising takeout of this conference on legal innovation and technology, at least for me, is a focus on being HUMAN!
I love this so so much. ❤️ Technology is an enabler. It enables us to be more efficient and accurate and consistent in so many areas of business and life…. But it isn't HUMAN.
Connecting H2H (human to human) and focusing strategy and innovation around people, needs to be a key learning out of COVID. People matter and we are all wired differently. A one size fits all approach doesn't always work for complicated humans. …"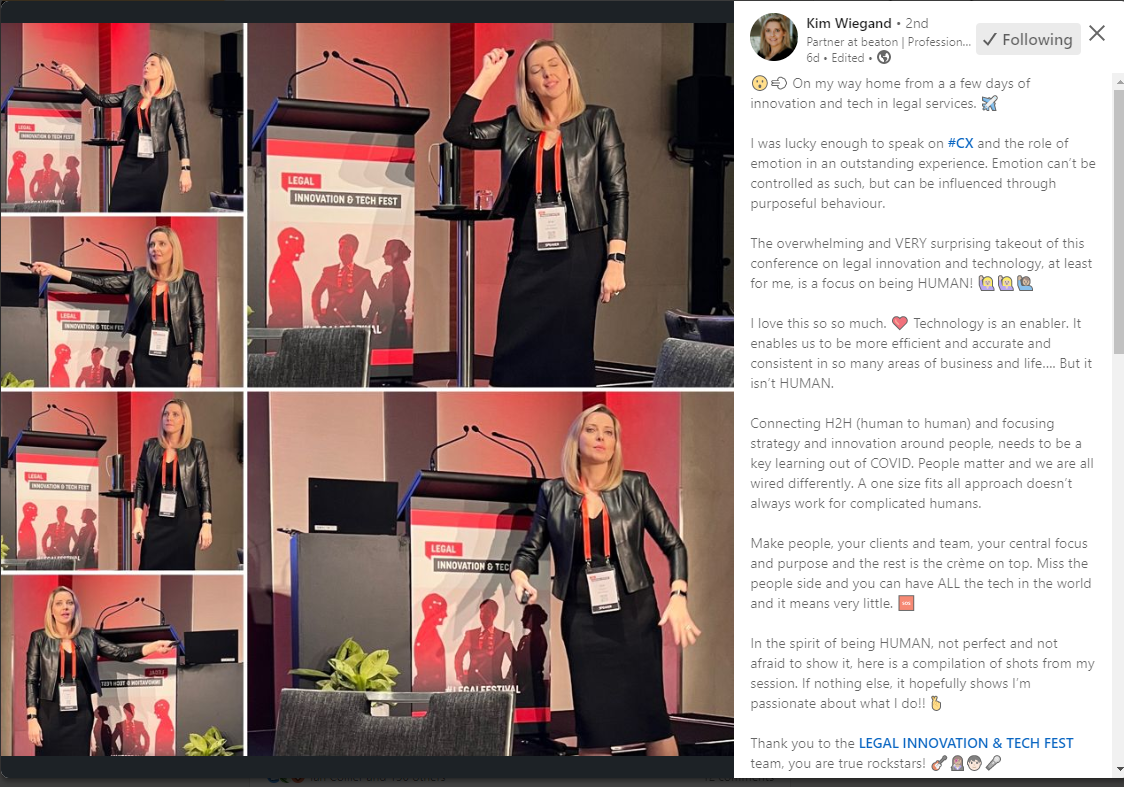 Alison Laird Driver of strategic innovation and change in legal operations; Advisory Board Member, Centre for Legal Innovation; Teaching Fellow (Innovation) College of Law
"Shout out to Jared Cooney Horvath, PhD, MEd who delivered the opening and closing sessions of the LEGAL INNOVATION & TECH FEST - one of the most engaging, entertaining, interesting and thought provoking speakers I've ever heard. Wish I'd had you as a lecturer at the University of Melbourne back in the day!!

Fascinating stuff and will forever change the way I 'recall and feedback' memories and engage with my 'coder'…."
Mason McManus - Legal Counsel | D&I advocate | Legal operations innovator | Army Reserve Officer
"An excellent start to day two at the LEGAL INNOVATION & TECH FEST! Great to hear from Daniel Susskind about a positive view on the "will robots take our jobs?" question - we should be shifting the focus to redeployment into new areas and skills rather than just a focus on those process which will be automated/replaced.

From an in-house perspective it's encouraging to consider and see the multiple examples from Elliot Leibu of ANZ, Jane Sandilands of Veolia and Schellie-Jayne Price of Chevron as to how the automation of low risk/high frequency work allows legal professionals to partner more closely with the business and bring the focus back to providing core legal services."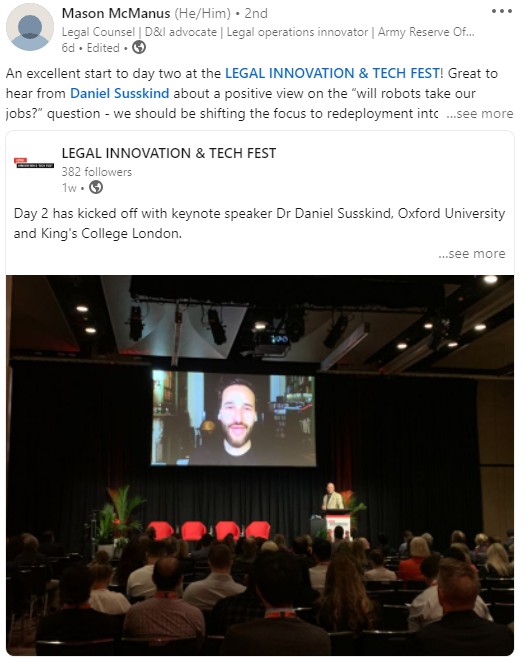 Amanda Fajerman - Legal Tech Evangelist | Microsoft Enthusiast | Innovator | Lawyer | Enabling lawyers to achieve all their legal tech needs with Microsoft
"I don't know what's better: catching up with old friends, meeting new friends or learning from the incredible speakers. I may be a #legaltech nerd, but the LEGAL INNOVATION & TECH FEST is my happy place.

My five "create-aways" from Day 1:
1. Create space to learn by "feeling" your way through the conference and waiting for the "coder" inside your brain to kick-in: Jared Cooney Horvath, PhD, MEd
2. Create and maintain your reputation, in a particular niche and with a unique value proposition to remain a relevant future lawyer: Nick Abrahams
3. Create self forming self organising communities to share knowledge, motivate and fuel innovation: Schellie-Jayne Price
4. Create content on social media that educates, entertains or both! "edutainment": Mel Scott
5. Create goals that are Thrilling, Important and Daunting: 📚 Michael Bungay Stanier"

For more Legal Tech Fest take-aways, see LinkedIn posts from Demi Agraz, Chloe McGreal, Milo Goldacre, Mollie Tregillis, Nathan Twisk - and many more on the Legal Tech Fest LinkedIn feed.
A huge THANK YOU to our 2022 Speakers... you were awesome!
A huge THANK YOU to our 2022 Industry Titans (2023 sponsorship opportunities available from June 13th)
A huge THANK YOU to our Advisory Team
Announcing the 2023 dates
As we look to the future, we are pleased to announce that Legal Innovation & Tech Fest 2023 has been confirmed for 1-2 May at Hilton, Sydney. We can't wait to see you there!
REGISTER YOUR INTEREST REQUEST A SPONSORSHIP PACK