07 May 2018
Introducing Penda: Australia's First Financial Empowerment App for Women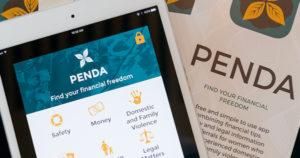 Penda is Australia's first financial empowerment app for women who have experienced domestic and family violence. They are also a proud Technology for Social Good Partner with the Legal Innovation and Tech Fest.
What is the Penda App?
Penda is a free and simple to use app combining financial tips, safety and legal information and referrals – designed with the aim of helping women to break the cycle of violence and build safer, more secure futures. Friends, family, employers and support people can also use Penda to help others.
Penda includes practical information on financial safety planning, tips to access emergency money, crisis payments, and emergency housing. The app also helps women prepare and protect their finances moving into the future with tips to safeguard assets and manage debt after separation or divorce.
Essential legal information on topics including domestic and family violence, child support, parenting, property settlement, and visas and immigration empower women to make informed decisions.
The app was developed by Women's Legal Service Queensland in collaboration with Financial Rights Legal Centre with funding from Financial Literacy Australia. A national communication campaign was made possible with funding from CUA.
Why Was the App Developed?
One in seven Australian women experience financial abuse. This is a common form of domestic and family violence, where victims are controlled by being isolated from household financial information and access to funds. Financial security is a key element in ensuring women's long term safety from violence as poverty and financial hardship often cause women to stay in, or return to abusive relationships.
For women experiencing domestic violence it can be hard to negotiate the many systems, processes and support services available. Women's Legal Service Queensland know from speaking with legal professionals that it can be hard to know what to do if there is a domestic violence disclosure. But you don't need to be an expert in this area to help your clients – Penda helps lawyers connect women with the right services and people. Penda can be downloaded onto your phone and you then have comprehensive, national information and referrals in the palm of your hand.
Accessing the App
Penda is available for free download in the Google Play and Apple App Stores.
Penda posters and flyers can be arranged by emailing: penda@wlsq.org.au.