23 Nov 2020
DAY 3 HIGHLIGHTS - Think long-term; think human; think voice; think things through

Welcome to the week that began with innovative thought, mental wellness and a technologically empowered legal business.
Here are some of the standout sessions from today's event.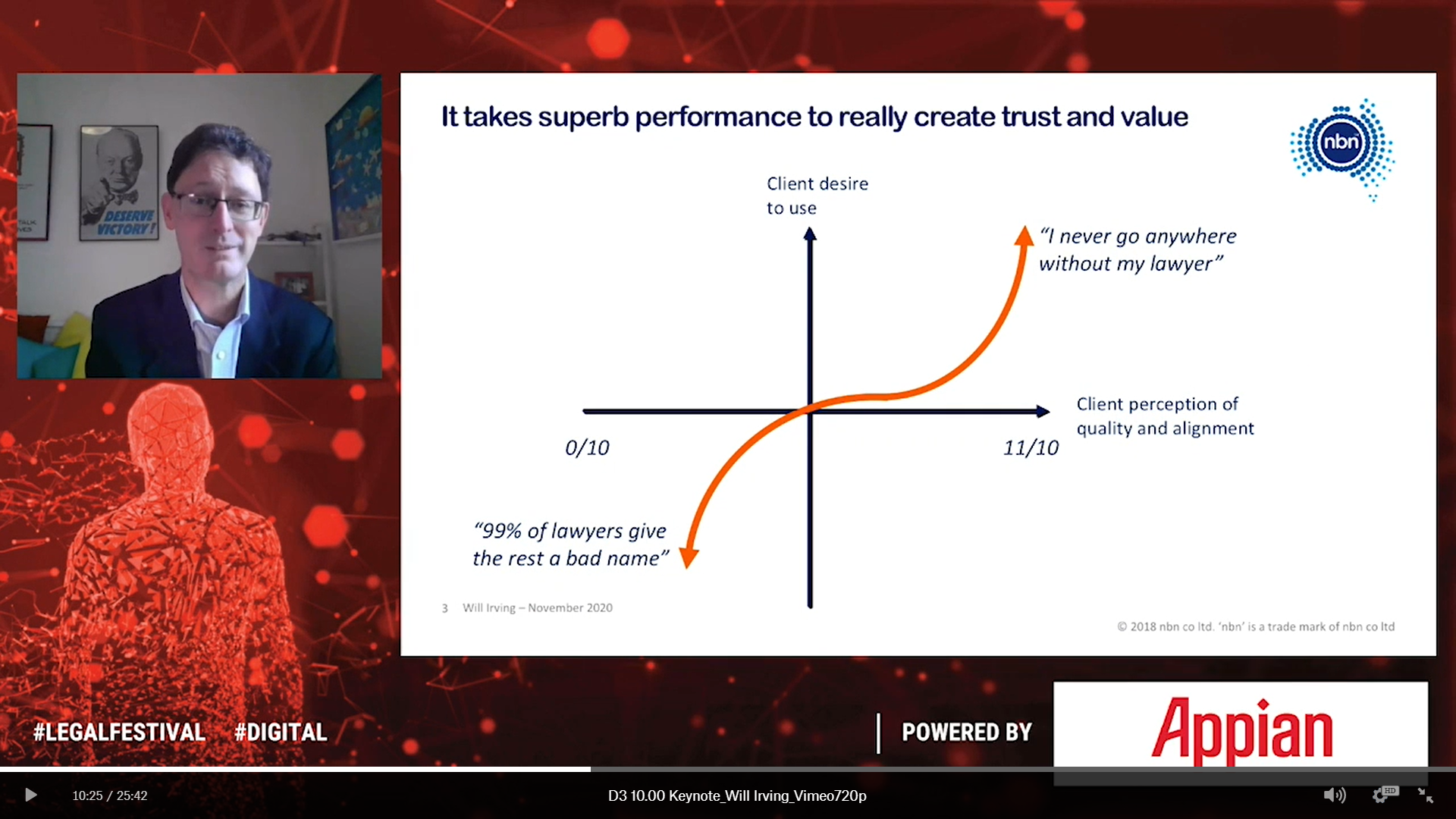 Will Irving, Chief Strategy and Transformation Officer, nbn co
Theme: How Legal Leaders Can Add More Value and Play a Bigger Role
Premise: Many legal professionals think that they add value by being the best lawyer they can be – giving accurate legal advice, managing their cost centre well and always being available. However, what CEOs and boards really value is different – it is principled solution identifiers and creators (with broad team leadership, project management, risk, culture and systemic thinking skills). It is people who think as organisational leaders and then apply specialist skills. Legal professionals must apply this to how they think about and manage their teams, how they build capability and ultimately work to make themselves redundant in the most useful way. How can you focus your internal team through Purpose, Principles and Metrics and capabilities beyond "the law"?
Keynote Key Takeaways:
Value creation is about a lot more than good legal advice.
Any good corporate lawyer is there to build competitive advantage.
Work to make yourself redundant.
Seek out people who will give you opportunities to learn and develop financial, product, marketing and organisational skills.
Quote of the session:
"If we want long-term relationships with our clients, we need to think about our clients' long-term concerns not just a particular transaction or issue they have brought to us."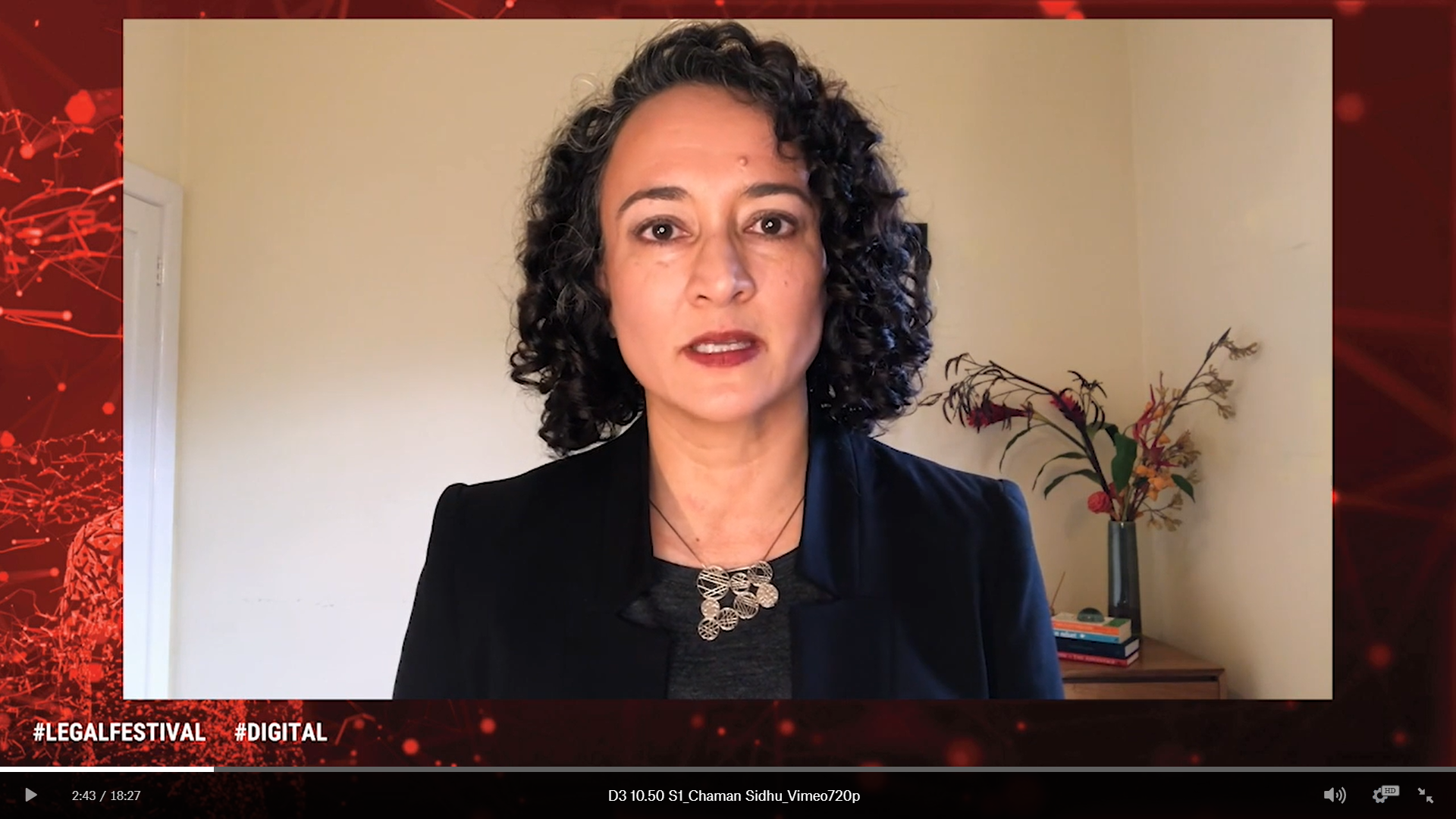 Chaman Sidhu, Chief Legal Office and Company Secretary, Xero
Theme: Client-Centric Legal Communications – Human Language Can Transform Plain English
Premise: Like everyone, lawyers live in a world surrounded by technology. Yet there's a fundamental way in which we operate as a legal profession that needs to change in order to meet our client and customer needs and bring us into the 21st century. And that's how we communicate. Lawyers in some countries made a great leap forward 30 years ago through Plain English. But we have not gone far enough to truly make what we produce as a profession accessible and embraced by the very people we seek to serve. There's a fundamentally innovative way to communicate, transforming from Plain English to Human Language. It could revolutionise what clients and customers think about lawyers, transform our ability to make an impact in supporting our customers, and get us much closer to the fabled "seat at the table".
Key Takeaways:
Imagine a world where people read and understood legal contracts and were able to use them to help navigate their situations or the world better.
Debunking legal-speak is important to better serve our stakeholders, reflect major societal shifts and make a difference to your profession.
Complex legal documents can be both enforceable and understood by most if conveyed in a more human language. It also makes compliance more likely.
Quote of the session:
"The way to really shine in light of all this complexity is not to add more complexity, but to simplify and it is to be much more human in the way that we communicate as legal advisors."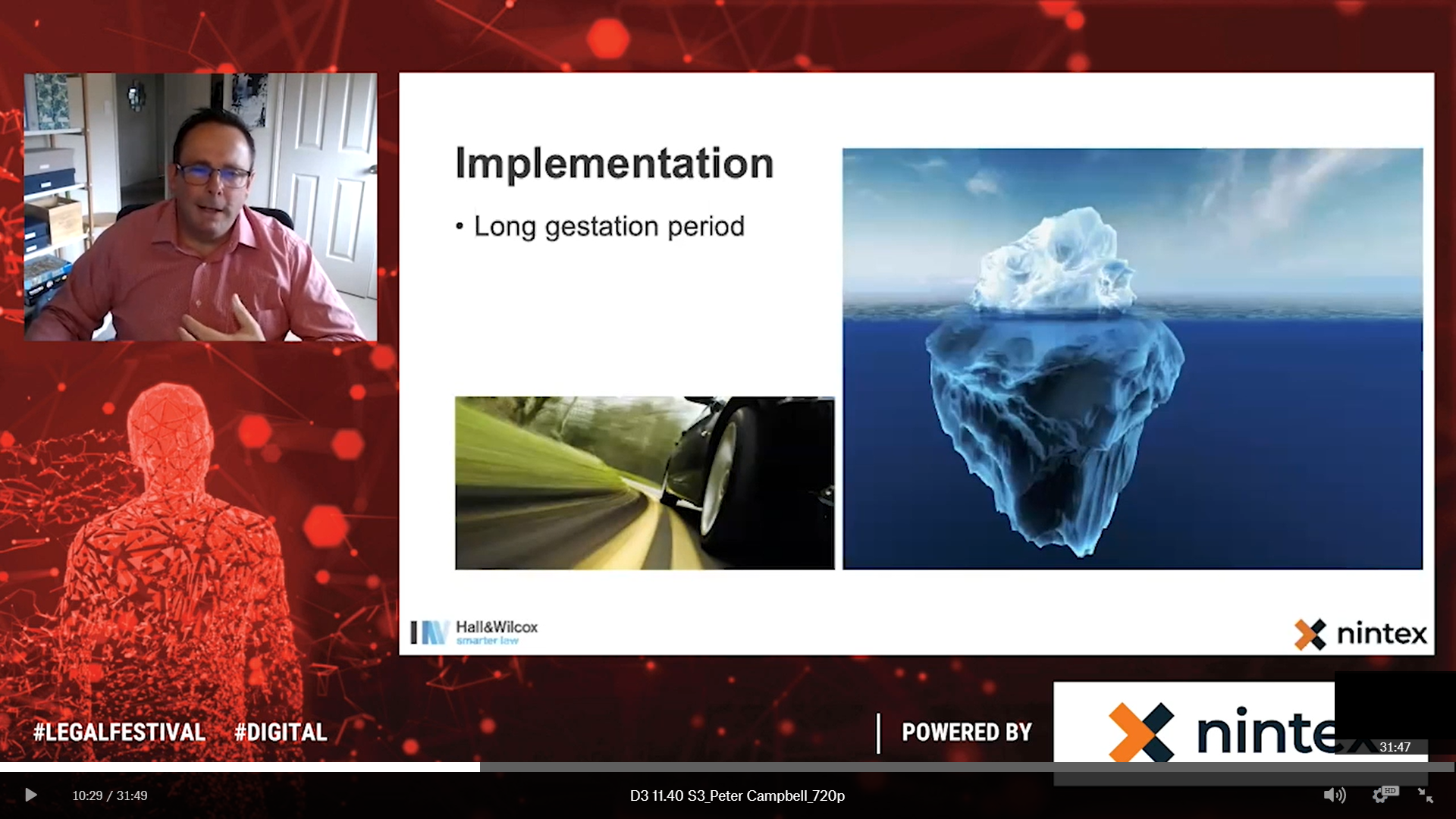 Peter Campbell, Director - Client Solutions - Hall and Willcox
Theme: Forget Post-It notes – It's Time to Listen to Your Clients and Build a Real Delivery Engine!
Premise: Design thinking, journey mapping and other methodologies threaten to re-engineer how we work. But, our big customers have already told us what they want. In the volume litigation space, we all need well-managed, systemised service delivery to meet their needs. We need to focus more on actually putting the systems in place to make it happen. That takes case management and everything else that goes with it.
Key Takeaways:
The client expectations arising require more focus on quantitative metrics, process and efficiency than ever before.
Driving consistency and efficiency especially across practices requires service delivery engines supported by technology.
Hall & Willcox created matter management and case management systems underpinned by a standard business process improvement methodology.
A great outcome has been lawyers and non-lawyers working well together.
Quote of the session:
"Building a delivery engine, mapping processes and coding up systems is seen as more boring than ideation sessions but in my opinion, it's the most impactful thing you can do. Bring back boring."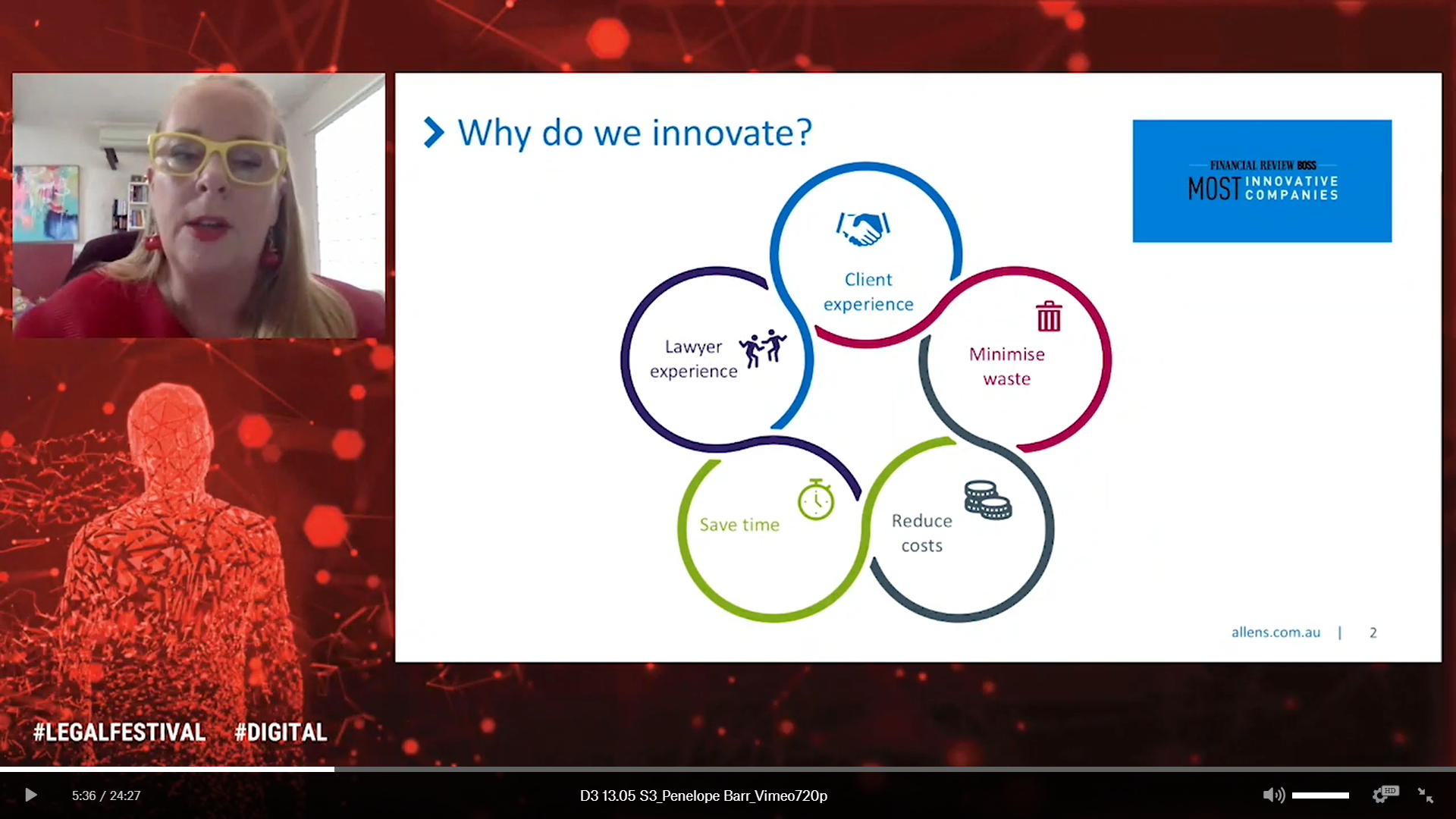 Penelope Barr, Head of Legal Product Lab – Allens
Theme: Get to 'Done' Faster - Using Lean and Agile Principles to Drive Change and Adoption
Premise: Allens has a strong desire to embed innovation as part of its DNA. 12 months ago, Allens was doing pretty well, with external recognition and internal commitment to innovation but a very large, stagnant portfolio of initiatives.
Today, they're doing even better because they upended the previous approach and pulled assessment and decision-making right to the genesis of an idea. A lean, structured, end-to-end innovation and product approach outlines the "why, what, how, and when" of idea-generation – cross-functional assessment; design-thinking to ensure the right problem is understood; lean experimentation to develop product increments to test validity, desirability and feasibility; agility for incremental delivery; lean change for "just-enough" adoption activities to embed any change or go-to-market programs.

Key Takeaways:
Innovate to improve client experience, lawyer experience, waste minimisation, efficiency and costs.
Progress made via a 100-day plan.
Create a 'yes no' culture.
5 stages: deliberate, discover, design, decide, drive – involving the voice of customer, the voice of product, and the voice of market.
Quote of the session:
"We've done a huge amount of work in terms of trying to step back and understand the goals that we needed to achieve and through the end-to-end approach have tried to set out what was needed to structure the innovation and product development approach so we could get to 'done'."
Don't miss the final exciting day of Legal Innovation & Tech Fest - DIGITAL tomorrow beginning at 10am.