19 Nov 2020
DAY 1 HIGHLIGHTS: The Multiverse, the Legal Mosaic, the T Shaped Professional and the Stats

What a thought-provoking start. Day 1 of Legal Innovation & Tech Fest - DIGITAL began with an inspiring and practical exploration of what it takes to be a successful lawyer in this, arguably, very exciting time. The day continued with talks, Q&As and tech demos from experts; global and home grown.
Here are four of the multitude of highlights from today's sessions.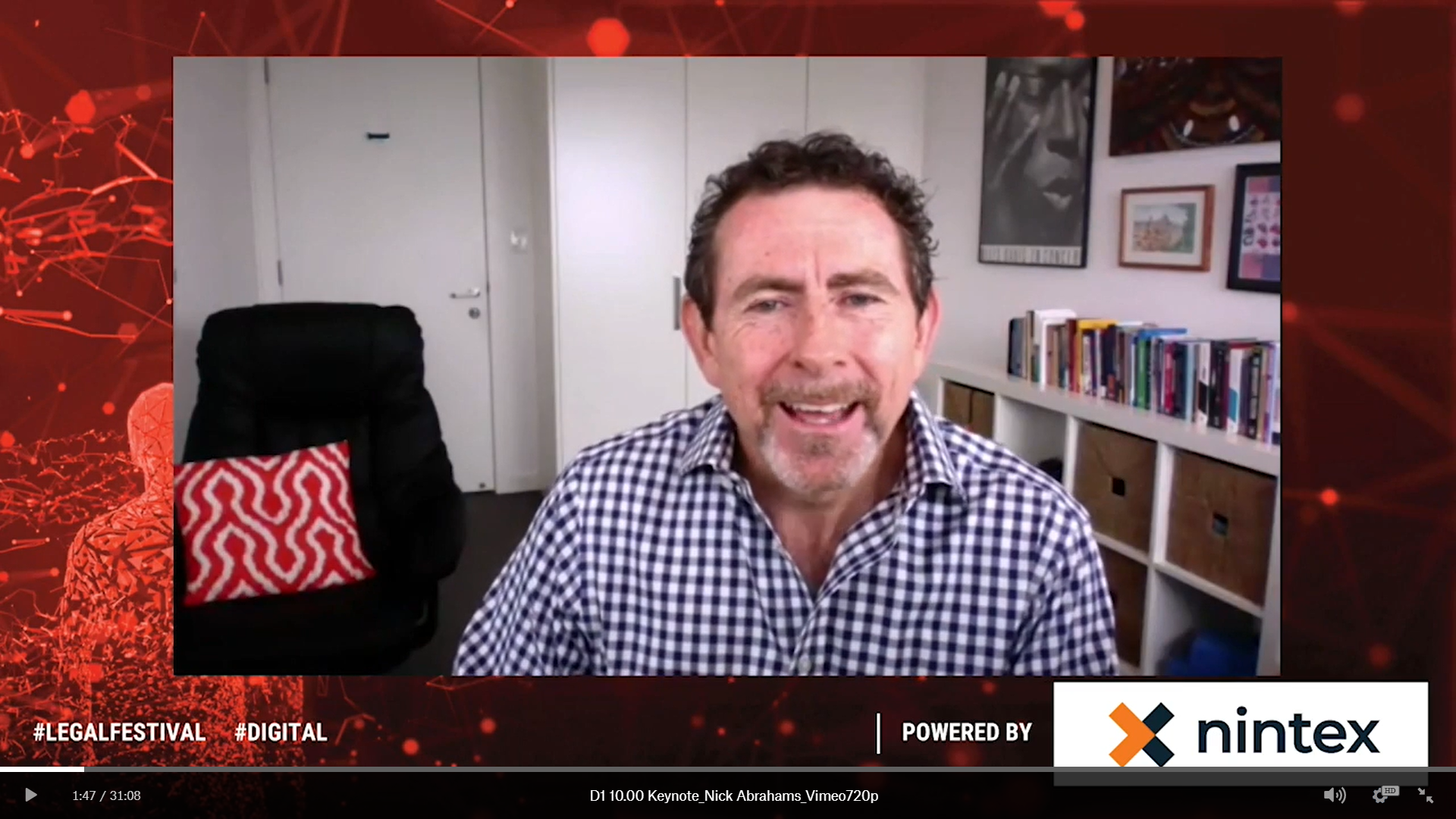 Nick Abrahams, Head of Innovation - Norton Rose Fulbright
Theme: The Breakthrough Lawyer – How Lawyers Can Survive and Thrive in the Multiverse
Premise: The rapid-onset of digital transformation over the last few months means we now live and work in a multiverse. Business is an aggregation of physical and digital spaces connected by tech without regard to geographic boundaries. That multiverse is changing and becoming more complicated at an exponential rate. We all need to interact with our colleagues, clients and contacts in a collaborative environment regardless of their location.
Keynote Key Takeaways:
3 rules for approaching organisational innovation:
Use lean, minimal viable product methodology.
You need diversity in your team
You've got to sweat the details.
Quote of the session:
"In this hybrid world (the 'Multiverse') there are 4 'bills' you need to be to survive and thrive: Identifiable; Accountable; Global; and Mobile."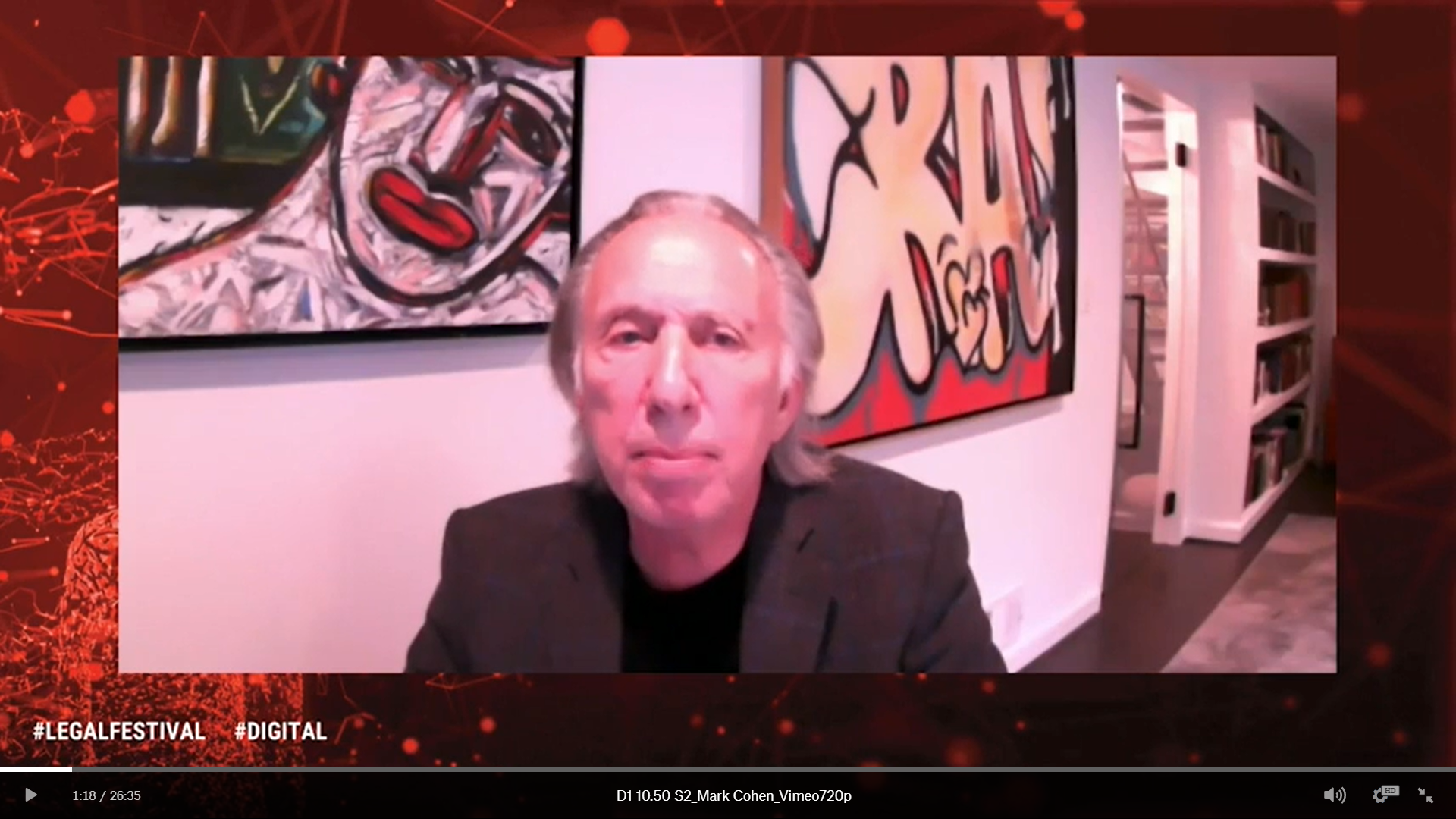 Mark A. Cohen, CEO, Legal Mosaic and Executive Chairman - Digital Legal Exchange
Theme: Legal Innovation is a Mosaic
Premise: Innovation and legal tech are commonly described as isolated topics. They are not. A host of other factors are also involved in the change dynamic – change management, diversity, new skills, customer-centricity, and use cases for data and technology are among them. This talk provided an overview of how the pieces fit together and why they are all required to drive impactful change.
Key takeaways:
The great opportunity and challenge for the legal industry for those who focus on the customer; on investing in technology that benefits the customer and reimagines the possible and improve the experience and the results of the possible. This is true innovation.
Lawyers can use technology to improve by:
Becoming more affordable
Becoming much more diverse in every sense
Combining their passions with legal expertise
Quote of the session:
"Law used to be exclusively about lawyers. Law now has become the intersection of legal expertise, business expertise and technological expertise."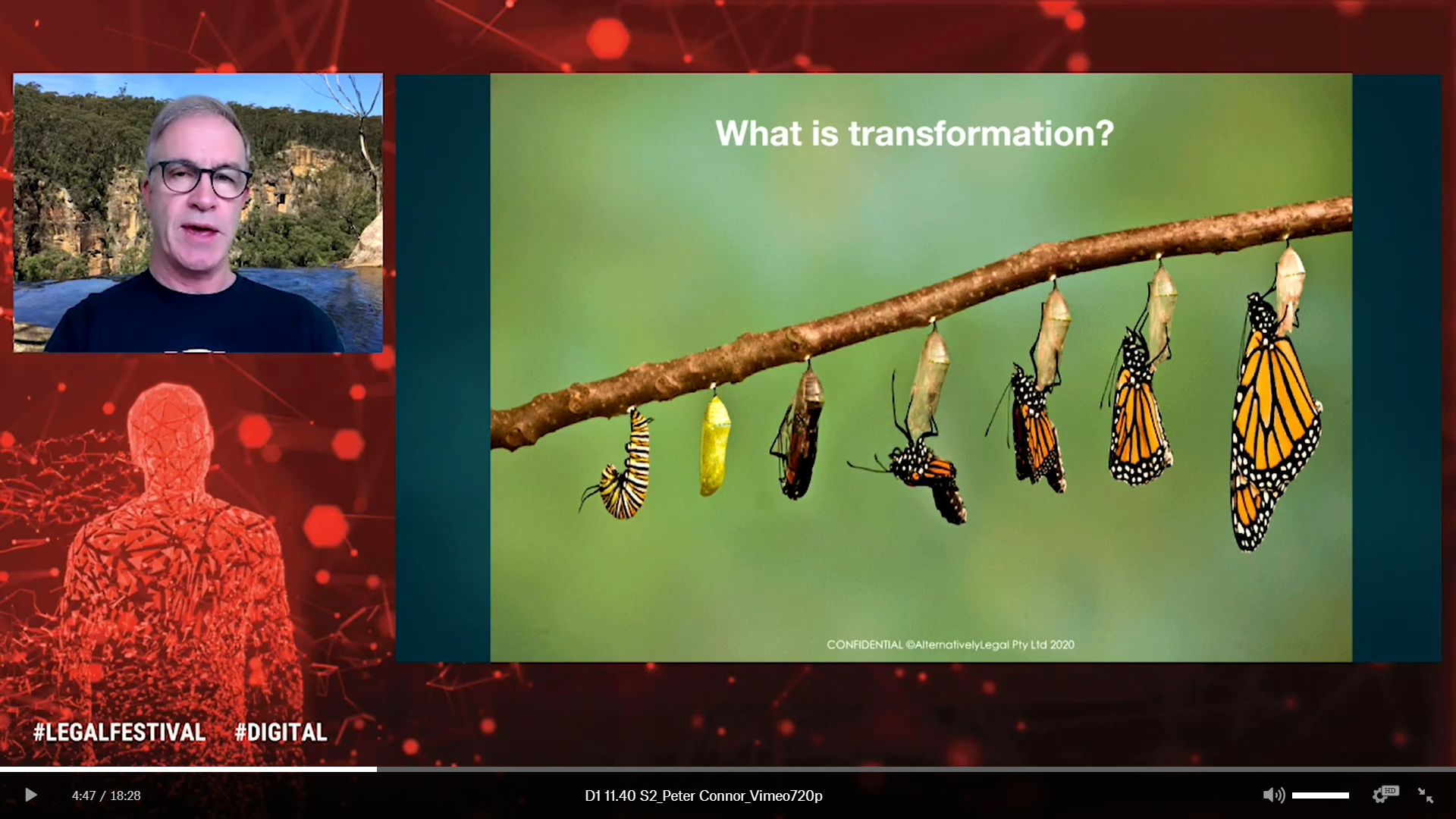 Peter Connor, Founder and CEO – AlternativelyLegal
Theme: People - Has Human Transformation Been Overlooked in the Focus on Digital Transformation?
Premise: When it comes to transformation and innovation, technology grabs all the headlines. But have we overlooked something in our preoccupation with technology? People.
Key takeaways:
Transformation is more than 'just improving'.
It doesn't just happen. It requires a plan and a concerted effort. A structured approach.
Intelligence is not enough.
Technical skills aren't enough.
The T Shaped professional is capable in a lot of things and expert in none. It intersects knowledge of law (including specialist practices) with non-legal skills, competencies, knowledge, qualities and mindsets.
Quote of the session:
"People are your number one asset, and its only by investing in reskilling and upskilling can you maintain the value of those assets and enhance the value that they provide to your clients."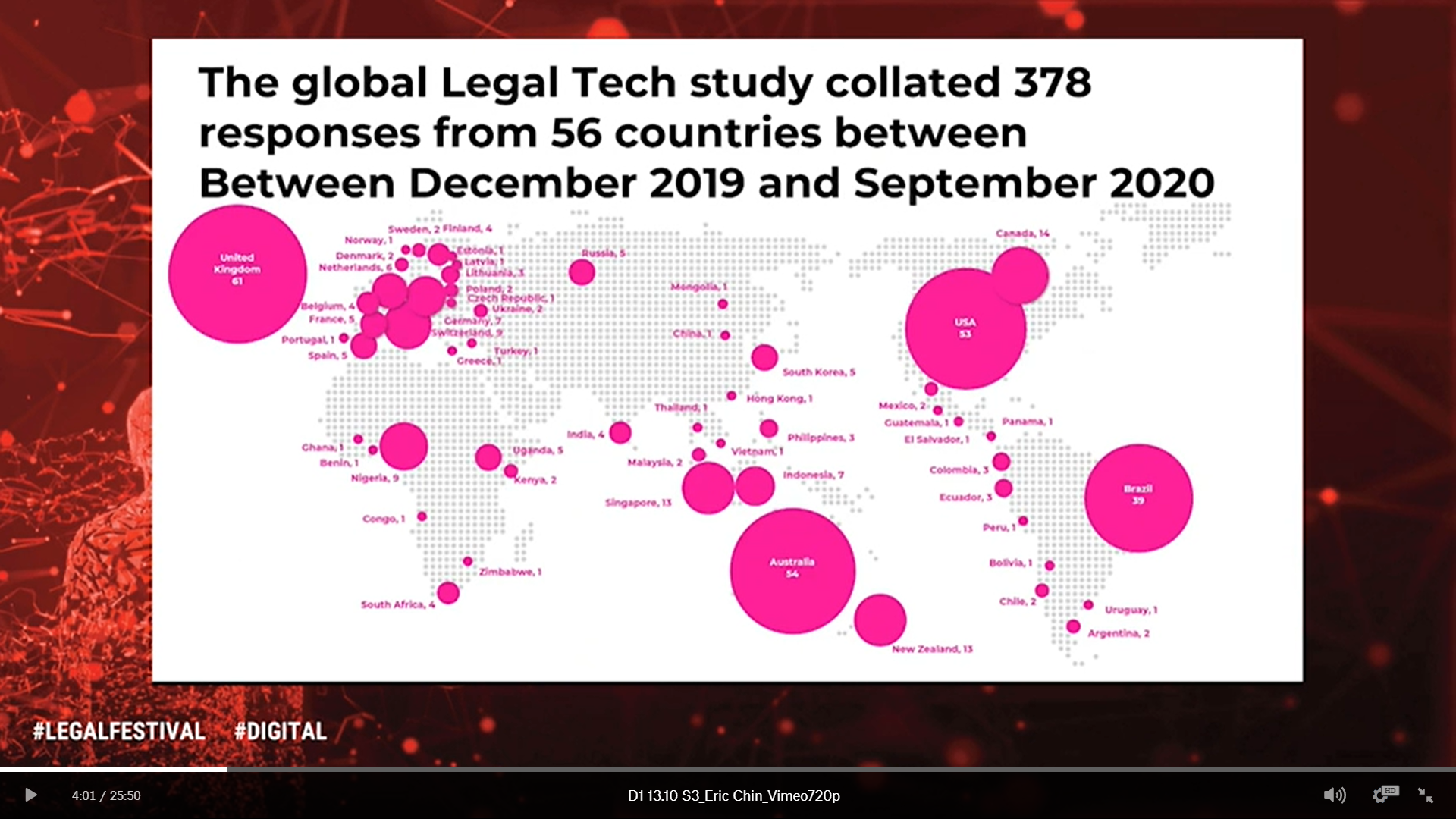 Eric Chin - Principal, Innovation and Technology, Alpha Creates
Theme: The Global Legal Tech Market
Premise: The Legal Tech markets across the globe are at different stages of development. Revealing the findings of the Global Legal Tech Report that sheds a light on the business of Legal Tech. Too often in our legal profession, we get into discussions about the consumption of Legal Tech as well as the legalities of Legal Tech. This is a world's first report on the business of Legal Tech.
Key findings:
50% of Australian LegalTech firms are founded by a team of one.
41% of Australian LegalTech founders are women.
Integrated solution providers dominate the LegalTech landscape.
The largest product category of LegalTech products in Australia is document automation
Database programs surpass artificial intelligence as the most frequently mentioned underlying LegalTech technology.
Tune in to Legal Innovation & Tech Fest - DIGITAL again tomorrow at 10am for another day of impactful insights.