22 May 2017
4 Things I Learnt at the 2017 Legal Innovation & Tech Fest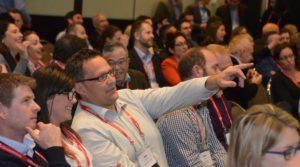 1 – Innovation is an opportunity
"We can't afford not to be looking towards the next step", said Rein Graat, General Counsel, Asia Pacific, ING Bank early on day one. This was the common theme of the conference, but Rein set the tone for how to interpret and visualise the vast amounts of information we would be handed over the next two days. He highlighted the enormous complications associated with bringing the legal industry into the technological era, demonstrating how it is not only physical change, but most importantly a cultural change. We need to be pushing the people within our businesses to own a 'digital first' mentality, to explore how innovation can empower us and improve the quality (and quantity) of our work. Innovation is a constant opportunity, and understanding that constant change is the key to seizing that opportunity is fundamental.
2 – Learn the facts about Artificial Intelligence, and its practicalities
We throw around the term AI without fully understanding what it is and what its application is. In the legal profession, we don't need to be data scientists in order to embrace AI, we simply need to be educated on its functions. Sam Nickless from Gilbert & Tobin put it very simply when he said, "you must have a willingness to persist and experiment with AI, its very nature is to learn". AI will not be an immediate fix-it solution to reviewing and automating procedures, it takes time to guide the process. AI relies on the human element to train and optimise the process. Machine learning is only optimised when human learning accompanies and guides the process.
3 – We don't need to be experts in tech, just advocates
"Don't wait for the right time to innovate, there will never be a right time. Do it now." is how Shaun Temby, Partner at Maddocks sees it. He suggested that lawyers need to look at the tools that are already at their disposal and exploit them to add value to the business. As I discovered, this does not necessarily require a thorough exploration into new technology but does require getting under the bonnet and looking at how it works. Only when we are armed with greater information on AI, automation and innovative technologies can we truly understand how they will apply to our specific environment. Be bold and experiment.
4 – Start small and build
'The Experiment Loop': Hypothesise – Design & Build – Analyse – Iterate
This was a key practical takeaway from the conference. We can't just lump new processes and technology into our business. We need to look at what problem we are trying to solve, this is all well and good if we know the problem we have. As Amantha Imber, Founder of Inventium put it, "innovation starts with customer frustration, not ideas". We need to analyse our own process, identify what frustrates our clients and customers and then investigate solutions to build and improve their experience. This can also be applied on an internal level. Identify what frustrates people within your company and experiment with possible solutions. Iterate until you solve your problem.
This article originally appeared on Richard Graham's LinkedIn Pulse. Richard was an attendee at Legal Innovation & Tech Fest 2017.